ROASTED ACORN SQUASH AND KALE SALAD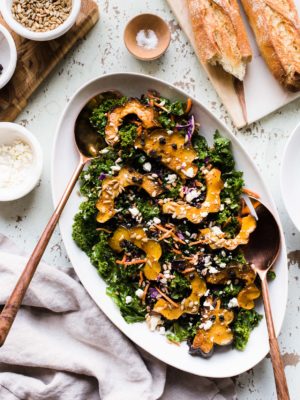 Recipe is taken from kitchenconfidante.com
https://kitchenconfidante.com/roasted-acorn-squash-and-kale-salad
Roasted Acorn Squash and Kale Salad is perfect for fall and winter! Roasted squash adds sweetness, along with currants and a maple vinaigrette. Delicious enough for a spot on the holiday table and easy enough for a weeknight meal. Enjoy the contrasting flavors and textures in this gluten free salad recipe!
Prep Time15 minutes
Cook Time 40 minutes
Total Time 55 minutes
Servings 6 people
INGREDIENTS
For the dressing:
2 tablespoons apple cider vinegar
1 tablespoon maple syrup
1 1/2 teaspoons Dijon mustard
1/4 cup olive oil
kosher salt
freshly ground black pepper
For the salad:
1 acorn squash halved, seeds removed, and sliced into 1/2 inch thick slices
2 tablespoons olive oil
kosher salt to taste
freshly ground black pepper to taste
1 teaspoon paprika
6 cups chopped kale
1 cup shredded carrot
1 cup shredded red cabbage
1/2 cup currants
1/2 cup sunflower seeds plus a little more for garnish
1/2 cup crumbled feta cheese
INSTRUCTIONS
Make the dressing:
In a small bowl, whisk together the vinegar, maple syrup and Dijon mustard.
While whisking, drizzle in the olive oil and continue whisking until the dressing is fully emulsified.
Season to taste with salt and pepper.
Make the salad:
Preheat the oven to 400°F with a wire rack placed in the center. Line a baking sheet with parchment or aluminum foil.
Place the slices of acorn squash on the baking sheet, toss in the olive oil, making sure the squash is evenly coated.
Season the squash on both sides with salt, pepper and paprika.
Place in the oven to roast for about 40 minutes, flipping halfway through.
In a bowl, toss the kale, carrots, cabbage, currants and sunflower seeds in about 3/4 of the dressing.
Arrange the salad in a platter, and top with the acorn squash. Drizzle with remaining dressing and top with feta cheese, and a few more sunflower seeds, for garnish.